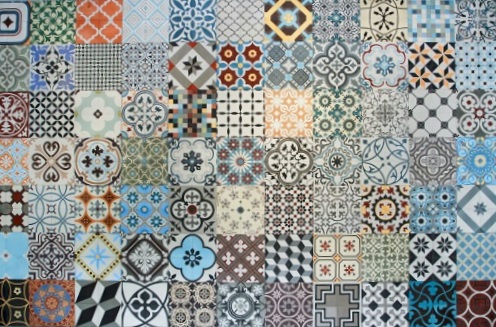 The story behind encaustic cement tiles in Vietnam
(The stories shared by of our artisans)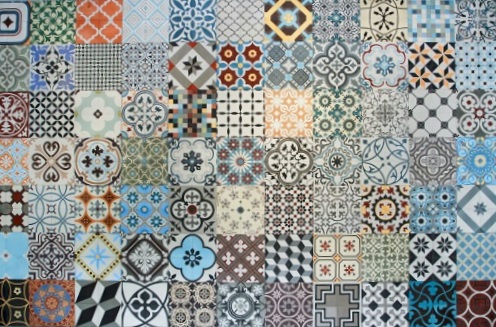 The image of encaustic cement tile has imprinted on the mind of several generations of the Vietnamese, along with the ups and downs of history and economy. Recently, the come-back of encaustic cement tiles in the international market is heating up because people tend to gradually return to search the cultural values and old-aged art. However, only a few people know the story of the career, the life story of the encaustic cement tile artisans who are still hard working until now by the skilful hands of their ingenuity to preserve and develop encaustic cement tile in Vietnam. At the present, the experienced artisans in the past have been gathered to work in three encaustic cement tile factories of Secoin placed in Ho Chi Minh City, Binh Duong Province and Da Nang City. These artisans have interesting shares behind each encaustic cement tile that we are seeing from the past to the present.
How our artisans learned to make encaustic cement tiles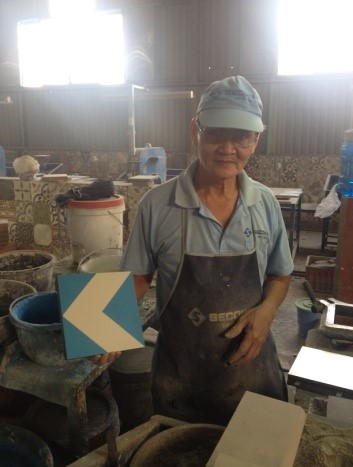 Occupation of making encaustic cement tile do not usually be learned from school, only studied by skilled and experienced artisans, so-called vocational apprenticeship. Before 1975, most of these artisans worked for many small individual companies with different small with heavy machines and human-centric focusing. By June 1975, there are no materials and supplies for the production of cement tiles, so many factories have closed and workers left the jobs, Mrs. Van- with over 40 years experience in making cement tiles - shared.
By 1984, the production of tiles started running again like before. However, according to the share of Mr. Tu "in 1984, according to government decree 54, the purchase of cement is very difficult to make tiles under subsidization" so there should also be large effect on the cement tile production. Mr. Tu – an artisan with over 27 years in the industry - said "mostly machines in the past were from French, the first machine I use 2 pig-clead clots used to press the tiles, then the handed pumper machine... Encaustic cement tiles had been very popular in Vietnam before, so there were many orders that were made from day until late night to deliver punctually". This is a flourishing period of encaustic cement tile Vietnam.
The national contest for making encaustic cement tiles in 1987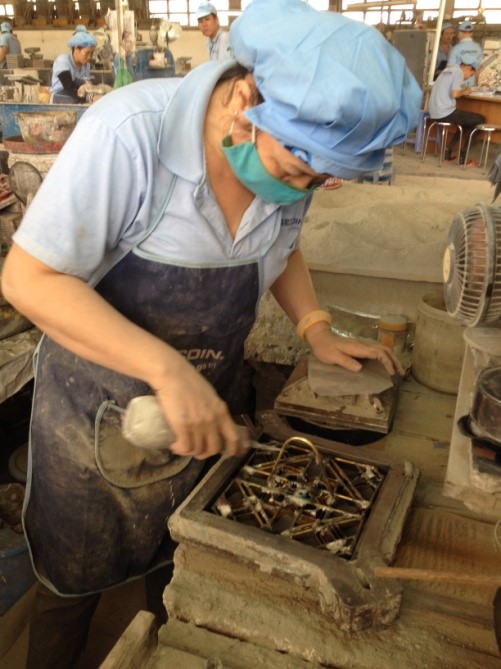 In 1987, the contest of gold hands was organized to choose and honor the craftsmen make the best tiles in the southern provinces of Vietnam. Ms. Le Thi Dep is one of two people who have achieved the gold
hands award in that year. She previously worked for Thanh Danh and is currently working at Secoin factory in Le Minh Xuan Industrial Park. In the words she said, in this contest, each enterprises and individual corporations have 7-8 candidates to attend in this contest. Artisans of the factories will go to other factories in the use of different machines among them. That year, her competition was in Duc Tan factory in which she had to use hydraulic pump while she worked with hand pumps in Thanh Danh factory. The contest takes place continuously for 3 or 4 days. Each day, the organizer and judges will give different patterns to produce prescribed time with the required number of tiles in the contest. Organizers and judges will consider individual cement tiles that made in the right quality, quantity, pattern in the specified time to choose the winners. Pictures of Ms. Dep and her award in that year was published on Workers Newspaper in 1987.
The downturn period of encaustic cement tiles
"In 1992 and 1993, when China started ceramic tiles, the encaustic cement tiles are sold slowly and nearly disappeared," Mr. Huong and Ms. Huynh said - the artisans worked in Thanh Danh before with more than 25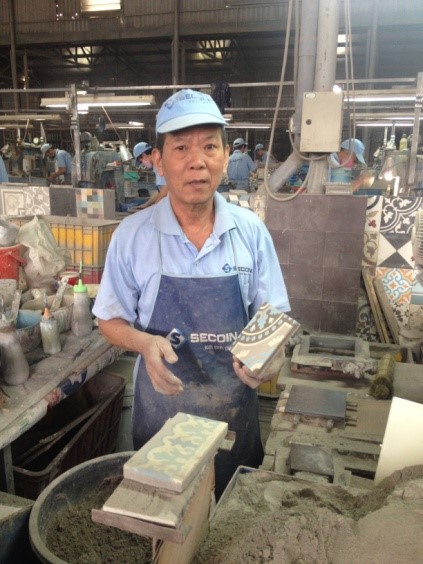 years in their profession. At this point of time, the workers only worked 3 days maximum in a week. Although there are many craftsmen had to quit and find another job, but "because of the passion of the career and living so I should not want to leave" is the reason why the artisans are still working hard to make sophisticated tiles in Secoin currently.
To hold and overcome this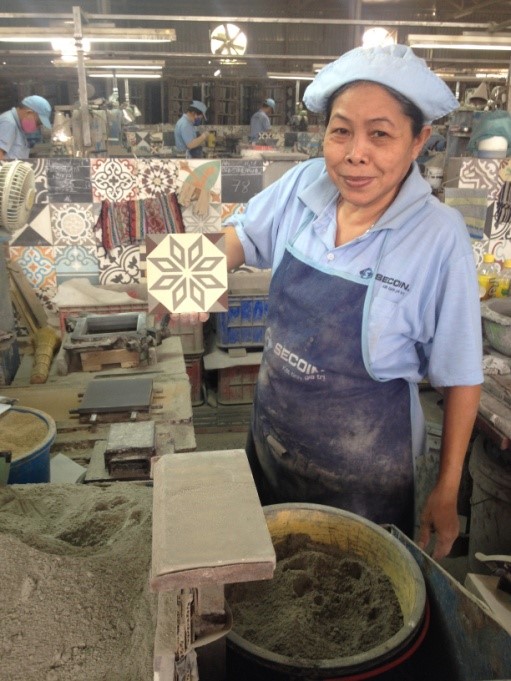 difficult period, enterprise and individual corporations focused on exporting encaustic cement tiles to foreign market such as France, Holland, Germany ... And tile has been raised from the exportation but totally lost market shares in the nation.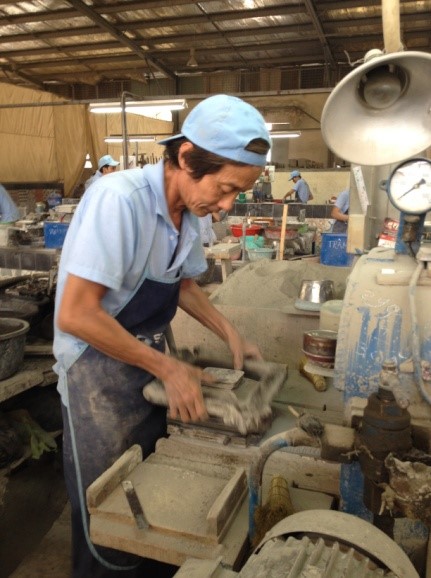 Until 2006, due to changes in the structure and properties are more volatile so large encaustic cement tiles companies which are Thanh Danh, Duc Tan, Doi Tan bankrupted and closed their factories.
Handmade cement tile is making a grand come-back!
Until 2009, Secoin owns brand and factory of Thanh Danh from the government and gather all old artisans previously working in Thanh Danh go back to work together in Secoin Binh Duong and Le Minh Xuan Factories.
By sharing of most longtime artisans such as Ms. Thoa, Ms. Kim Van and Mr. Mai, designs, colors and patterns of recent cement tiles is much more than before. Although using electric pumps with pressure gauges is easy now, most of the encaustic cement tiles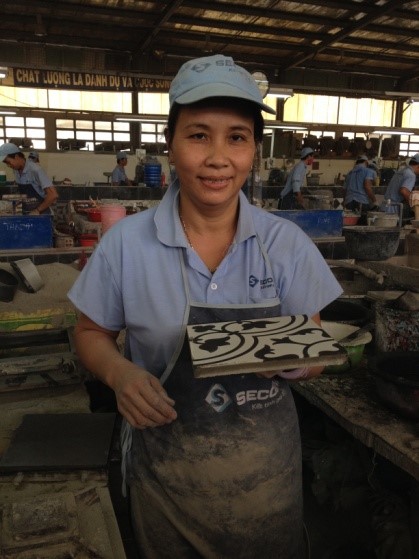 are increasingly exported to foreign markets and highly competitive market so the quality requirements are difficult and rigorous. The artisans stated that in the past they made 200 tiles per day but at the present only 100 tiles per day due to specific nature of the market that require workers to be always learning, meticulous and cared more for their individual cement tiles. "It is easy to do this job, but not difficult to follow the profession in long time because of love and true passion for this career."
Each share of the cement tile artisans create a lively story replayed the ups and downs of the cement tile field in Vietnam but beyond those time period that is career love, commitment to retain a beauty of traditional culture and bring them beyond the borders of Vietnam to present in more than 50 countries in the world. And we can totally believe that Vietnam encaustic cement tile industry will go further in the future when everything is more modern and more advanced, the more people appreciate and honor the nostalgic value.
Written by
Secoin Marketing Team