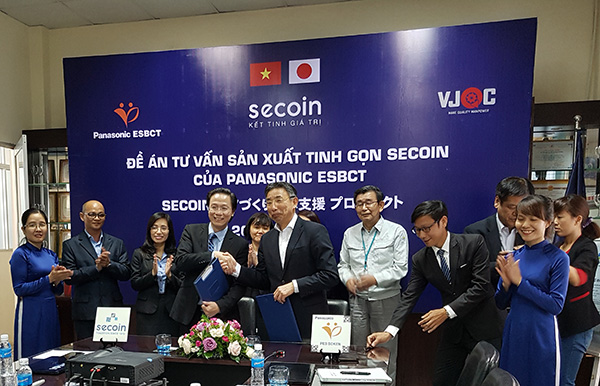 THE FIRST VIETNAMESE ENTERPRISE CONSULTED BY PANASONIC ESBCT (JAPAN)
Starting from March 2018, Panasonic ESBCT Institute of Education and Training (Japan) implemented the Lean Manufacturing Consultancy Program for Secoin's factory system. By the time the program was completed in March 2019, Secoin is the first Vietnamese enterprise to receive consulting, training and implementing lean production from Panasonic ESBCT.
Why Panasonic?
Panasonic is a Japanese brand name that is no stranger to most Vietnamese people. When it comes to Panasonic, people often think of high quality, reputable electronic products. With 100 years of history and a huge network of companies and factories around the world, Panasonic has a team of professionals with rich knowledge and practical experience in production management. Within the framework of the program signed between Panasonic ESBCT and Secoin, their Japanese experts have been sent to Secoin Factory in Vietnam monthly to carry out training, consulting and implementing a lean manufacturing program for Secoin.
When being asked why Secoin selected Panasonic ESBCT as a consultant while Secoin specializes in production of artistic tiles, Mr. Dinh Hong Ky, Secoin's Chairman shared: "Secoin selected Panasonic ESBCT on the basis of the following reasons: Firstly, Secoin wants to apply a standard, lean and efficient production management model to our factories. Secoin is reaching out to the international market, where customers require us to constantly consolidate and build an international standard production model; secondly, Secoin wants to focus on the "human" factor and therefore Secoin's management levels need to be facilitated to contact, work and learn from leading experts in the world. And thirdly, Panasonic is a giant corporation, it is not easy like spend money to hire their experts to consult. It is a chance and luck for Secoin when Panasonic experts visited the factory and they can see the enthusiasm of the leadership team and especially the very potential products of Secoin so they are willing to build a special consultancy program for our system ".
What we learn from Panasonic experts?
Consultant Otsuki Etsurou - who has more than 40 years of production management experience at factories in Japan, is the main expert in training Secoin staff on how to conduct factory improvements. Besides, his associates such as expert Nishino and VJQC experts are also regularly present at the direct consultation sessions with Secoin. The factory of roof tile, cement tile, Terrazzo and concrete block were evaluated and analyzed by the Panasonic expert team to know the current situation to select the main points to improve in production.
Panasonic ESBCT consulting program in Secoin takes place in one year and is divided into two 6-month periods. At each period, Panasonic experts and Secoin give 5 topics with very specific objectives. The final meeting to report about the result of the program was held on 20 and 21 March 2019 with the participation of Panasonic ESBCT leaders and experts, the Board of Directors and Secoin management staff from all 3 regions in the North - Central – South of Vietnam.
"You have changed beyond our imagination"
If at the beginning of the consulting program, Panasonic ESBCT experts cannot help worrying about the reality of Secoin's management team, until the end of the program, the experts are very happy to say: You have changed beyond our imagination. We have consulted at many manufacturing companies in other countries but there is no place where we have witnessed the remarkable progress as in Secoin."
According to Secoin Chairman Dinh Hong Ky, Secoin's biggest gain after Panasonic ESBCT's consultancy program is the "human" factor. Thereby Secoin has a team of managers with a background in production management that has been significantly improved and has great confidence in its business, on its subordinates.
"Keep the mind of those who want to rise to the top of the world"
Mr. Yukihiro Okamura, President of Panasonic ESBCT commented: "Panasonic is a large corporation that has just celebrated its 100th anniversary and Secoin is a Vietnamese enterprise preparing for the 30th anniversary. Ever since the establishment of Panasonic, Mr. Matsushita Konosuke had the motto "Before making products, we have to make people". Secoin have to train people for the development in 50 years, 100 years. I see freshness, striving forward in Secoin and believing that you will succeed. Secoin should keep the mind of those who wish to rise to the top of the world. The managers of all levels must constantly learn to make Secoin grow up ".
At present, Secoin's products have been exported to 60 countries across 6 continents, especially presented in big chains of supermarket for building materials in Europe and America. With increasingly difficult demand from customers all over the world, If manufacturers want to integrate, compete and find long-term foothold in the global economy, they need to constantly update and improve. Enterprises not only need to produce good products but it requires perfect production systems and meet international standards, including conditions for labor standards; health and safety; environment and business ethics. The program received advice from Panasonic ESBCT to help Secoin build an efficient, safe and international production environment. It is also a factor contributing to the prestige and trust of the foreign customer system for pure Vietnamese manufacturing enterprises like Secoin.