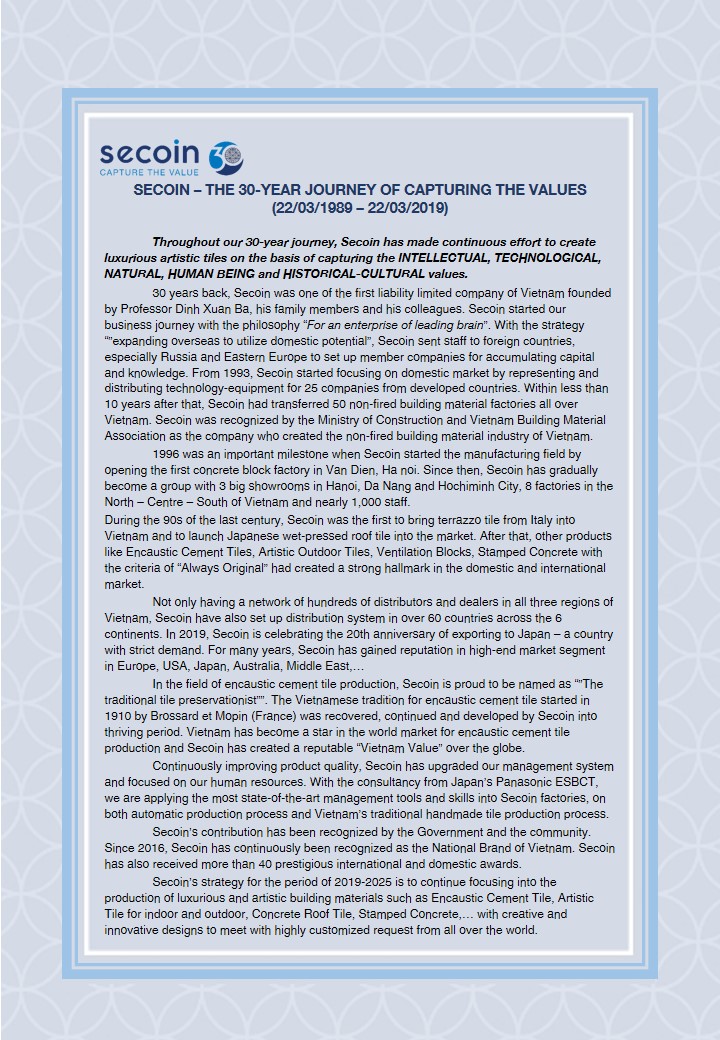 SECOIN – THE 30-YEAR JOURNEY OF CAPTURING THE VALUES (22/03/1989 – 22/03/2019)
Throughout our 30-year journey, Secoin has made continuous effort to create luxurious artistic tiles on the basis of capturing the INTELLECTUAL, TECHNOLOGICAL, NATURAL, HUMAN BEING and HISTORICAL-CULTURAL values.
30 years back, Secoin was one of the first liability limited company of Vietnam founded by Professor Dinh Xuan Ba, his family members and his collegues. Secoin started our business journey with the philosophy "For an enterprise of leading brain". With the strategy ""expanding overseas to utilize domestic potential", Secoin sent staff to foreign countries, especially Russia and Eastern Europe to set up member companies for accumulating capital and knowledge. From 1993, Secoin started focusing on domestic market by representing and distributing technology-equipment for 25 companies from developed countries. Within less than 10 years after that, Secoin had transferred 50 non-fired building material factories all over Vietnam. Secoin was recognized by the Ministry of Construction and Vietnam Building Material Association as the company who created the non-fired building material industry of Vietnam.
1996 was an important milestone when Secoin started the manufacturing field by opening the first concrete block factory in Van Dien, Ha noi. Since then, Secoin has gradually become a group with 3 big showrooms in Hanoi, Da Nang and Hochiminh City, 8 factories in the North – Centre – South of Vietnam and nearly 1,000 staff.
During the 90s of the last century, Secoin was the first to bring terrazzo tile from Italy into Vietnam and to launch Japanese wet-pressed roof tile into the market. After that, other products like Encaustic Cement Tiles, Artistic Outdoor Tiles, Ventilation Blocks, Stamped Concrete with the criteria of "Always Original" had created a strong hallmark in the domestic and international market.
Not only having a network of hundreds of distributors and dealers in all three regions of Vietnam, Secoin have also set up distribution system in over 60 countries across the 6 continents. In 2019, Secoin is celebrating the 20th anniversary of exporting to Japan – a country with strict demand. For many years, Secoin has gained reputation in high-end market segment in Europe, USA, Japan, Australia, Middle East,…
In the field of encaustic cement tile production, Secoin is proud to be named as ""The traditional tile preservationist"". The Vietnamese tradition for encaustic cement tile started in 1910 by Brossard et Mopin (France) was recovered, continued and developed by Secoin into thriving period. Vietnam has become a star in the world market for encaustic cement tile production and Secoin has created a reputable "Vietnam Value" over the globe.
Continuously improving product quality, Secoin has upgraded our management system and focused on our human resources. With the consultancy from Japan's Panasonic ESBCT, we are applying the most state-of-the-art management tools and skills into Secoin factories, on both automatic production process and Vietnam's traditional handmade tile production process.
Secoin's contribution has been recognized by the Government and the community. Since 2016, Secoin has continuously been recognized as the National Brand of Vietnam. Secoin has also received more than 40 prestigious international and domestic awards.
Secoin's strategy for the period of 2019-2025 is to continue focusing into the production of luxurious and artistic building materials such as Encaustic Cement Tile, Artistic Tile for indoor and outdoor, Concrete Roof Tile, Stamped Concrete,… with creative and innovative designs to meet with highly customized request from all over the world.