, 25/04/2015, 14:43 GMT+7
View: 14534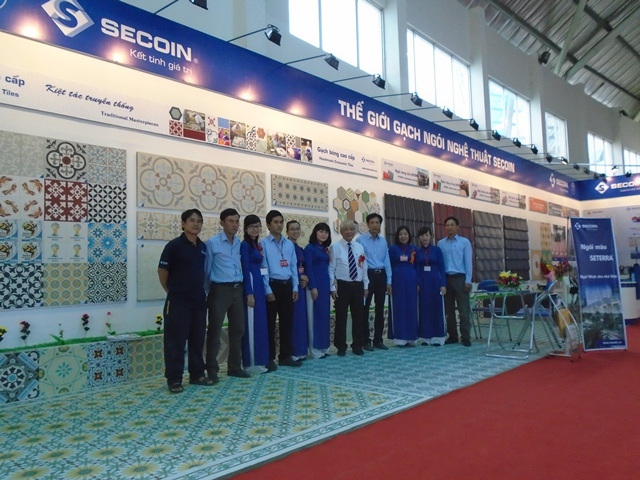 Secoin participated in Vietbuild 2015 Exhibition in Danang
Vietbuild 2015 Danang is officially opened on 22/4/2015 to 04/26/2015. We kindly invite the customers to visit the displaying area of Secoin's products at Vietbuild 2015 Danang with 6 pavilions in an impressive and beautiful design.
At Vietbuild 2015 Danang, Secoin has 6 booths with beautiful and impressive design, Secoin introduced high quality and diversified non-burnt building material product lines
Secoin brings and introduces many different products such as concrete roof tiles, encaustic cement tile, indoor terrazzo, artistic outdoor tile, garden landscaping, concrete block, Korean pigment ... to Vietbuild 2015 Danang.
Secoin product lines has received customer attention and especially the design consultant, contractor because of the diversity of applications, aesthetic beauty and quality of each product.
Secoin Danang is honored with merit from the President of the People's Committees of Danang on "Pavillion Size - Beautiful and impressive Design" in Vietbuild 2015 Danang.
In Vietbuild 2015 Danang, Secoin continues to confirm the sustainable business position as a leading company in producing and providing non-burnt building materials in Vietnam.