Family company always has its own value
Among the successful businessmen, Chairman of the Board of Directors of Secoin Building Materials JSC (Secoin) Dinh Hong Ky is a fairly typical face for young generation who owns a family company. As a joint stock company, with 70% of stocks hold by the family, Secoin has a large scale of manufacturing non-burnt building materials in Vietnam; penetrate into even the most demanding markets. In the interview, he shared with Saigon Entrepreneur Weekend valuable experiences from initial start-up to success in the marketplace.
(Nam Duc)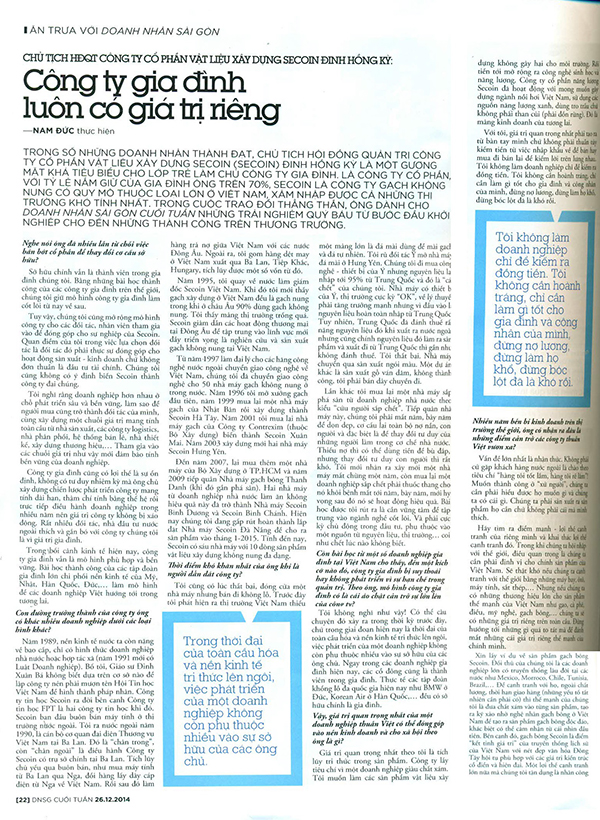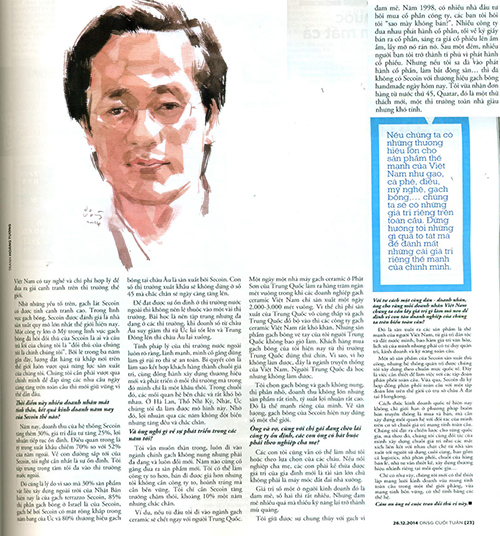 * We heard that you have repeatedly refused to sell your stocks to change the ownership structure, haven't you?
- Main owners are still members of our family. With the success stories of family companies in the world, we keep family company model as core value from now on.
However, we also extend the model to the partner companies, employee participations in order to contribute to Secoin. My opinion in choosing partners are partners that have actually contributed to the production activities - business, not merely a financial investment. We have no intention of turning Secoin into a public company.
I think that what makes a business different from others is the intensive and sustainable development, how to make buyers also become the partners, and build a value chain from global manufacturers, logistics companies, distributors, retail systems, designers, branding … Participating in this new value chain ensures the sustainability of the business.
Family company also has the advantage of stability, without thinking about the term; the boss builds strategic development for the company in the long term, even measured in generations and direct operating businesses in many years so the value of the company is not disturbed. Many partners, foreign investors like and cooperate with our company because of our family values.
In the current economic context, the family company model is still appropriate and sustainable. Successful lessons of the large family group dominating the economy of the United States, Japan, Korea, and Germany ... is a model for Vietnamese enterprises towards the future.

* The road to success of your company is different from that of many companies under other fields, isn't it?
- In 1989, the economy of our country was still heavily central planning, the only form of state-owned enterprises or cooperatives (the Enterprise Law was set up in 1991). My father, Professor Dinh Xuan Ba did not know which structure should be based to set up the company so he should have borrowed the name of Vietnam Informatics Association to form a legal entity.
Secoin Information Company and FPT Company were only 2 information companies at that time. Secoin initially traded computers in foreign markets.
I went abroad in 1990, as a representative of Vietnam Trade Office in Poland. It is a "foot in," and "foot out" is operating Secoin headquartered in Poland.
Accumulated mainly through trading, I bought computers from Poland to Russia, exchange the computers to get power cables from Russia to Vietnam. Then make every repayment between Vietnam and other countries in Eastern Europe, I collected textiles in Vietnam to export to Poland, Czechoslovakia, Hungary, accumulated some capital from it.
In 1995, I returned home as a director of Secoin Vietnam. When I saw building tiles in Vietnam that were burnt while 90% of tiles used in Europe were non-burnt.
I saw an empty market segment. Secoin gradually reduced commercial activities in Eastern Europe to focus on new areas of research and manufacture of non-burnt tiles in Vietnam.
From 1997, as agents for foreign technology companies to transfer their products to Vietnam, we have technology transfer for 50 non-burnt building materials factories in the country. In 1996, we opened the first tile factory; in 1999, we purchased a tile factory of Japan and then build Secoin Ha Tay.
In 2001, we bought a factory of Contrexim Company (Ministry of Construction) that becomes Secoin Xuan Mai. In 2003, we built two factories of Secoin Hung Yen.
By 2007, we also purchased a factory of Ho Chi Minh City Department of Construction and in 2009; we took over Thanh Danh tile factory (when it was nearly bankruptcy). The two factories not effectively operated from state-owned enterprises become Secoin Binh Chanh and Binh Duong factories.
Currently we are rushing to complete installation of Secoin Danang factory for the manufacture in January 2015. Up to now, there are six Secoin factories with 10 various non-burnt building material product lines.

* What is your most difficult time to be the leader of the company?
- I also failed sometimes, closed a factory, and sold it without loss. Before I discovered that Vietnam market was lack of a large segment of abrasive stone used for grinding tiles and natural stones. I invite an Italian partner to open an abrasive stone factory in Hung Yen.
We purchased technology - devices of Italy but the raw materials were imported from China to 95% and that was our "death". The factory had equipments of Italy, the market was extremely "OK", the theory in this context might be strong, but because the input as raw materials was fully imported from China.
However, China had been heavily taxed when the raw materials were exported.
I failed. The factory was changed to produce color roof tiles. Another project was the production of wooden particle board but it was failed then I had to sell the lines.
In another time, I purchased a factory from a nearly bankrupted state-owned enterprise in style of "save the dying person". Taking over of this factory, we took five, seven years to clean up, restructure the entire debt, people and especially to change the mindset of the people in state-owned mechanism.
Debts were easily paid by money, but changing human thinking is very difficult. I realized that building a new factory takes less than a year, but the purchase a dying business for "medical treatment" took five or seven years to hope that it might be effectively operated.
The lesson I learned is to be reassured to focus on core business. And to be extremely active in investment, depending on the source of raw materials, market ... was a death without time recognition.

* Lessons from a family business in Vietnam shows that, to a certain size, family firms are degraded or not developed because of the limitations of governance. For you, is the family company model so tight clothes to hamper the growth of the company?
- I do not think so! Maybe the story happened in the previous period, but in the current period it is the era of globalization and knowledge economy to the throne, the development of a business does not depend much on the basis of property of the owner.
Even in the family business today, the stockholders are also members of the family. In fact, the giant multinational groups today as BMW in Germany, Korean Air in Korea ... are family owned.

* So, what is the most important value of a pure Vietnamese enterprise can contribute to economic and social business under your perspective?
- The most important value in my opinion is cumulative knowledge of the product. The company took the criteria for a rich gray matter now. I want to make the building material products which are not friendly to the environment.
Then proceed to expand the biotechnology and energy. Secoin energy JSC operated with the desire to build Vietnam boiler industry, the use of green energy sources, using rice husk ash, not charcoal (to deforestation). It is the future business.
For me, the most important value must be created from your hands rather than purely to make money from selling or importing to buy and resell for profit on each other's back. I do not do business just for the money. I do not want to be spectacular. Just do something good for the family and employees, do not owe salary, do not make them in harsh situations – that has already been a difficult task.

* For many years of enduring business in the world market, what are the points of obstructing the pure Vietnamese companies to reach beyond this market in your realization?
- The biggest problem is awareness. Not every foreign customer is welcomed under the slogan "My product is very good and very cheap"! If there is a strong desire to succeed in overseas, we need to understand what they want and what we have. We must manufacture the products they need, not what we like.
Look for strengths - competitive advantage and exploit that own competitive advantage. While we integrate with the world, it is important that we need to position the product of Vietnam.
It would be hard if we compete with the world by plane, car, computer, steel ... But if we have the big brands for the strength of Vietnam such as rice, coffee, cashew, art, tile ... we will have something of global value.
Do not target towards what is too big to loose the value of our own particular strengths.
Please take the example of Secoin encaustic cement tiles. Our competitors are big businesses with a long tradition in countries such as Mexico, Morocco, Chile, Tunisia, Brazil...
To compete with them, apart from quality and delivery time (the necessary elements), our strength is putting brain into each product with skillful experiences of the Vietnamese artisans to create unique tiles; the differences can be felt from the first glance.
Besides that, Secoin encaustic cement tile is "capture the value" of the historical traditions of Vietnam and the East-West cultural beauty converge in accordance with the value of classic and modern architecture.
A major competitive advantage that we have is skillful Vietnamese workers and affordable cost to offer competitive prices in the global market.
Thanks to these factors, Secoin tiles have been highly competitive. In the field of encaustic cement tiles, Secoin is considered as the largest manufacturer in the world today.
A large company in the United States operating in the field of encaustic cement tiles asked who competitors of Secoin are and our answer is "our competitor is ourselves." In the last three years, the volume of orders from all over the world has always been beyond our production capacity.
We need to overcome ourselves to meet the growing worldwide demands to hold the leading position.

* At this time many entrepreneurs are dismayed. How is the business results in this year of Secoin?
- This year's revenue of Secoin's system increased 30%, the value of investment increased by 25%, profits remain stable. It is important that the proportion of exports accounted for 70% compared to 52% last year. In the future road of Secoin, I think stability is a must. I have maximum concentration on overseas markets.
That is the reason why 30% of outdoor paving products of Japan is Secoin terrazzo tiles, 85% of encaustic cement tile market share in Israel belongs to Secoin, pool paver tiles of Secoin are widely available in five states of Australia and 80% of encaustic cement tile brands in Europe are produced by Secoin. The number of exportation markets will not stop at 45 and surely increasing.
To achieve stability in foreign markets, we should not depend on a few markets. The lesson is focusing but diversity in the market, while European sales decline, they are better in Australia and the Middle East.
The legal system in foreign markets is always clear and fair, we try not to do uncertain things and we are surely safe. The key secret is how to incorporate customer into value chain, accompany with them to build the new brand and development in each market in which we are only one phrase to connect them in the chain.
In this sequence, the relationship is durable and very difficult to leave each other. In the Netherlands, Turkey, Japan, Australia we have done this model. Thus, the profits over the years are not increasing sharply but steadily.

* And what do you think about the development in the coming years?
I still want to be cautious, always go to non-burnt tiles industry but in diversity and innovation. Every year I attempt to launch new products.
I can build up bigger company and sell it at higher price but I do not choose to do so. I do not need the company to be monumental, it should be sustainable. I just need Secoin to grow slowly, about 10% for a year, but it must be stable.
For example, if I went into the industry from the beginning of ceramic tiles, I would have been defeated by the Chinese. In one day, a ceramic tile factory in Foshan of China make hundreds of thousands of square meters, while the ceramic Vietnam now produces only 2,000-3,000 square meters a day.
So the cost of production in China is extremely low and the Chinese tiles enter easily to Vietnam, the Vietnamese ceramic companies are in difficulties. But our handmade tiles cannot be made by the Chinese.
Chinese market is ranking the ninth position in our exportation market list. Why? Because it is the traditional industry of Vietnam. The Chinese have learned but could not do.
I chose encaustic cement tiles and non-burnt tiles, small market share, small revenue but very fine product, very high profit margin. That is the strength of our own. On output, Secoin encaustic cement tiles are currently the world number one.

* Your wife and you, with yours sister are driving the company to be stability, have your children been forced to follow the parental career?
- My children still can do like me or follow their own choices. If taking over the parental company, they must inherit the value of the family that is great asset rather than machinery, factory and land.
The number one value of a businessman is his passion. Many other factors rank number two. But having so much passion while lacking of skills would make us become a blind.
I remain faithful to the tiles because of the passion. In 1998, many investors have asked to buy stocks of the company; my friends asked me "why do not you sell?" Many companies are racing to issue stocks; sign up for selling them at night, then the prices are up tomorrow morning, "it took its fat to fry it".
Many of my friends became billionaires overnight because of stocks issued. But if I was eager in issuing stocks, investing in real estate ... I would have no brand Secoin with handmade tiles today.
I have just received an order from the 45th country, Qatar, which is a new challenge, a market full of rich people but difficult.

* As a citizen - entrepreneur, do you think that every Vietnamese entrepreneur needs to get a value as an anchor to locate the ship of our business on a global sea?
- It is manufacturing products which are the strength of Vietnam, from ethnic and national values, covering cultural values, the history, but must be thinking of management, business and global techniques.
Some Secoin products are handmade but our management system is built according to international standards. It is necessary to work with the global distribution groups. Recently, Secoin have signed a worldwide distribution agreement with a major global corporation headquartered in Hong Kong-based Asia.
The way of international business today is not limited in the traditional method of selling and buying, but need to build relationships with the partners on the basis of the global value chain.
We set out strategies for each country in which our partners and we build the value chain as the chain linked closely together from the manufacturer to the end users, including the logistics, distributors, retail stores, design consultants, branch branding in each country ...
Then, we can establish business networks both globally in a flat world and sustainably over the generations.
* Thank you for this interesting interview.
Translation from Saigon Entrepreneur Weekend magazine, dated December 26th, 2014